| | | | | |
| --- | --- | --- | --- | --- |
| . | . | . | . | web'Galerie Voigt Edition |
France F - 32320 Bassoues , Grande Rue
collotype (phototypie) - shortinfo
The phototypie was worked out after photography got into progress . People had been searching for silverless pictures for publishing.
Around in 1865 August Albert in munich succeeded in developing the process of collotype-printing into a stable one. He called this type of printing the "Lichtdruck" here in germany.
The possibility to print all steps between black and white (screenless-halftone) from a single printing-plate without any other process is the very difference to all other kinds of printing.
making the printing-plate
The prior element of the printing-plate is lightsensitive gelatin fixed on the surface of a stable plate. During the light-exposition you got an molekular conclusion so the gelatine do incorporate water in a different way. After exposing the plate is washed to make light-sensivity disappear..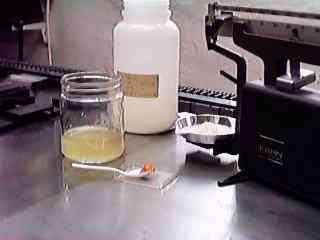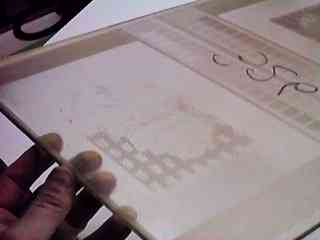 The pictures show the element gelatin and bichromat and the printing-plate ready for use. The plate is a glass-plate so you can see the exposed picture under a low angled light like an fine silver-picture.
printing
Printing is done by wet gelatin. The volume of water in the printing-plate correspond to the grade of light-exposition that was done. The transfer of the printing-ink is dominated by the strain of the color-surface and the printing-plate-surface. So you get an image of the origin picture on the printing-plate during inking itself (left picture).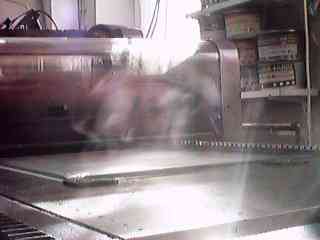 While printing the edition the paper do absorbe water from the printing-plate. We supply the plate during printing with an ultrasonic-atomizer (fog above the plate in the right photo).
The pictures in our example were done during the printing of the invitation-card for the exhibition of our artist Benno Derda.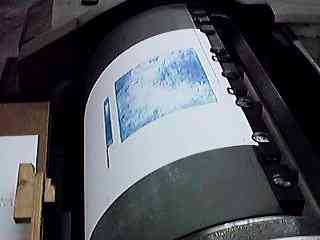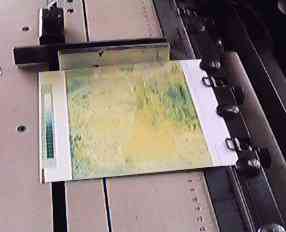 The sequence of the colors in the printing-process has been cyan, yellow and magenta. So you see the first print in clear cyan, the second shows colors between cyan - green - yellow and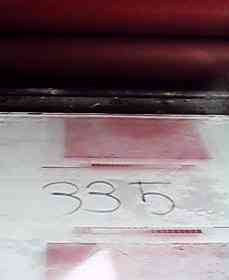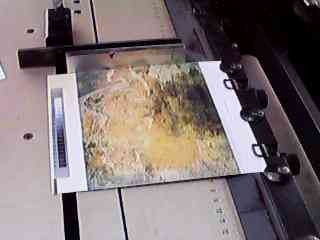 after printing magenta, you get all colors possible with this printing-inks. You can observe the process very well by looking at the printed controll-stripe printed behind the picture. By a well done print he must show his origin grey color in all parts.
Finished you get a good collotype-print showing different lights and screenless drawing all over.
We try to work out the process of the collotype for modern materials. So we are interested to get in contact with other printers who do the collotype. Here in europe we knew only a couple of five printers who do so.
We think , it would be good reason for working to make this process stay in the world of art.
If you're like, see detailed description here. If you do collotype yourself, we like to hear from you.
1 scriptrevision 20.04.97 - copyright - web'Galerie Voigt Edition
16192 visitors since 25.04.98