| | | | | |
| --- | --- | --- | --- | --- |
| . | . | . | . | web'Galerie Voigt Edition |
France F - 32320 Bassoues , Grande Rue
blockletter-printing
Shure , we are fond of this workmanship. But this technology matches the needs of our low quantities in producing art-editions and normaly there is less text in the whole page layout.
The blockletter-printing don´t need oversized film or printing- plates and with less text , it is done in no time . Not at all this way garanties typographic freedom from page to page.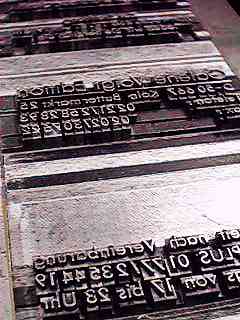 On the pictures you see the blockletters set in a frame on the basis of our blockletter-cylindermaschine . The font is called "futura" , a classic grotesk-type , we love to use it just for all.
The second font we occasional use is the bodoni , a good balanced antiqua-type . This is all we need to realize good legible typography with enough "hip".
scriptrevision 24.09.2008 - copyright - web'Galerie Voigt Edition
14594 visitors since 25.04.98